Products from getstamps.ca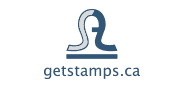 getstamps.ca sells cusomised stamps and related stamp accessories online in Canada. We focus on providing high quality products and a quick delivery service accross Canada. With our online cusomisation tool, customers can design their own stamp impression and order the ready-to-use stamp directly online. If there is already an existing layout, customers can also upload it to the getstamps.ca site.
getstamps.ca produces your customised textplate in Canada and stamp products used are from first-class suppliers producing environmentally friendly products.